Flexibility and Comfort
Stay active! Move freely in our strong yet breathable material. Our fine stitchings ensure that the stockings will stay durable even when you stretch or dance.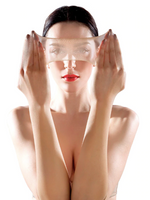 Resilience in Sheer Beauty
Our stockings are designed in Milan and fabricated using the most advanced knitting machines from Italy. We have more than 30 years of experience making some of the finest socks and stockings.
Denier - \ ˈde-​nyər \
A unit of weight by which the fineness of silk, rayon, or nylon yarn is measured, equal to the weight in grams of 9,000 metres of the yarn. Often used to describe the thickness of hosiery.